Metal Stamping Process
Stamping (also known as pressing) is the process of placing flat sheet metal in either blank or coil form into a stamping press where a tool and die surface forms the metal into a net shape. Stamping includes a variety of sheet-metal forming manufacturing processes, such as punching using a machine press or stamping press, blanking, embossing, bending, flanging, and coining. This could be a single stage operation where every stroke of the press produces the desired form on the sheet metal part, or could occur through a series of stages. The process is usually carried out on sheet metal, but can also be used on other materials, such as polystyrene.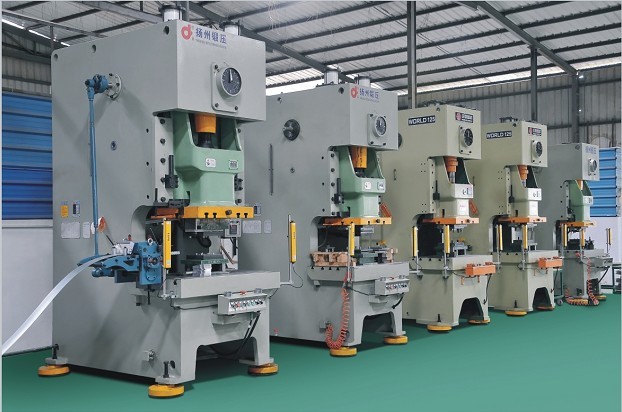 Operations
 Bending - the material is deformed or bent along a straight line.
 Embossing - the material is stretched into a shallow depression. Used primarily for adding decorative patterns.  
 Blanking - a piece is cut out of a sheet of the material, usually to make a blank for further processing.
 Curling - deforming material into a tubular profile. Door hinges are a common example.
 Hemming - folding an edge over onto itself to add thickness. The edges of automobile doors are usually hemmed.
Piercing and cutting can also be performed in stamping presses. Progressive stamping is a combination of the above methods done with a set of dies in a row through which a strip of the material passes one step at a time.
<! -- // row inner -->